http://www.uvnc.eu/download/PCHelpWareV2.msi
In this version server creation is integrated in the viewer via the tool menu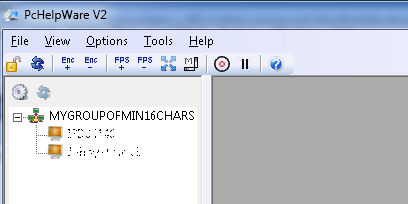 No more file edits, all changes can be made direct from the gui, change bmp, icon
text, color of the text etc...
Press create SC to generate the exe, password is auto added to
the viewer. In case password and Access code are preset, fields are grayed
in SC.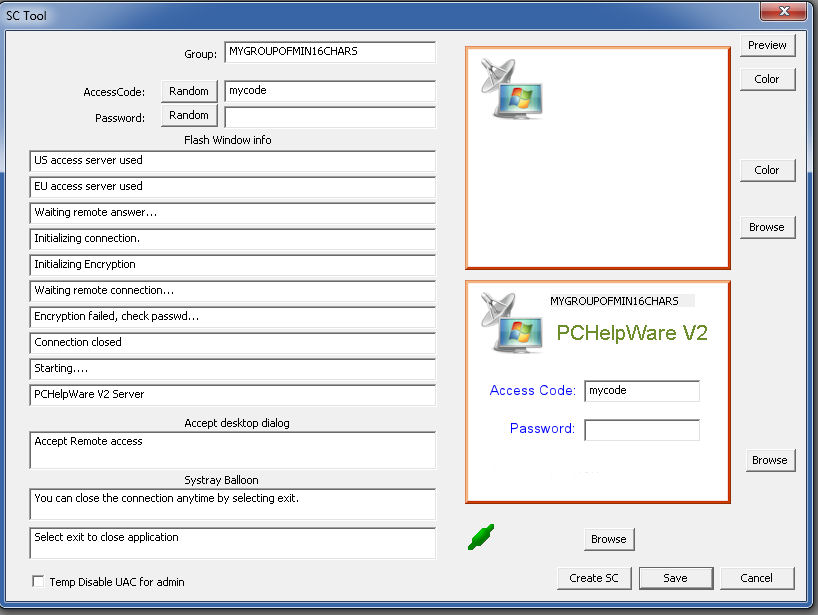 Have Fun.
License
----------------
Copyright (c) 2012, uvnc bvba
All rights reserved.
Redistribution and use in binary forms,are permitted provided that
the following conditions are met:
1. Redistributions in binary form must reproduce the above copyright
notice, this list of conditions and the following disclaimer in the
documentation and/or other materials provided with the distribution.
2. All advertising materials mentioning features or use of this software
must display the following acknowledgement:
This product includes software developed by the uvnc bvba.
THIS SOFTWARE IS PROVIDED BY UVNC bvba ''AS IS'' AND ANY
EXPRESS OR IMPLIED WARRANTIES, INCLUDING, BUT NOT LIMITED TO, THE IMPLIED
WARRANTIES OF MERCHANTABILITY AND FITNESS FOR A PARTICULAR PURPOSE ARE
DISCLAIMED. IN NO EVENT SHALL <COPYRIGHT HOLDER> BE LIABLE FOR ANY
DIRECT, INDIRECT, INCIDENTAL, SPECIAL, EXEMPLARY, OR CONSEQUENTIAL
DAMAGES(INCLUDING, BUT NOT LIMITED TO, PROCUREMENT OF SUBSTITUTE GOODS
OR SERVICES; LOSS OF USE, DATA, OR PROFITS; OR BUSINESS INTERRUPTION) HOWEVER
CAUSED AND ON ANY THEORY OF LIABILITY, WHETHER IN CONTRACT,STRICT LIABILITY,
OR TORT (INCLUDING NEGLIGENCE OR OTHERWISE) ARISING IN ANY WAY OUT OF THE
USE OF THIS SOFTWARE, EVEN IF ADVISED OF THE POSSIBILITY OF SUCH DAMAGE.
---------------------------